You are here

Do You Have a Death Plan?
Do You Have a Death Plan?
Submitted by Moneywatch Advisors on February 27th, 2020
Let's face it, unless you're Homer Simpson, you are going to age and, yes, eventually die. Only Homer gets to live forever. And while death is not something pleasant to think about, nor something to dwell on, it is something we should have a plan for. A death plan, for lack of a lighter term, helps you maintain control of the main decisions that are important to you and helps take part of the burden off the shoulders of your loved ones at a time when they will need the assist. Here is a list of the primary items that should be in all of our plans: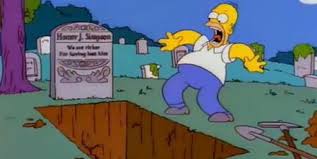 Your Financial accounts: Make sure beneficiaries are listed for every account you have – 401(k)/403(b), IRA, Roth IRA, etc. I've listed this item first because it is the easiest and best way to ensure most of your financial assets pass to who you want simply and without any delay through probate.
Former employer retirement accounts: If you haven't already, contact any former employers where you still have assets sitting in retirement accounts and roll them over to your IRA or Roth IRA. This process is easy, shouldn't create tax consequences and helps simplify accessing your finances if something happens to you.
Will: Aretha Franklin and Prince have been the most public of people to die without wills in recent years and the stories about fights over assets among family members should be a good prompt for any of us to complete one. Use an attorney, creating a will isn't very expensive – probably between $1,000-$2,000 for most of us - and have it signed, notarized and kept someplace in addition to your home filing cabinet. We like to keep wills on file for our clients to help their families. Have young children? Make sure your will contemplates who takes care of them and what financial support they will have to do so.
Your attorney will also help you think through the various other documents you may want or need such as a living will, power of attorney, and healthcare surrogate decision maker.
This is also the place to list any physical items you wish to leave to specific, special people. Have a painting your daughter will treasure? Golf clubs to your buddy? Your MLB hat collection to your son? This is the place for that list.
Debts: A list of your debts, to whom they are owed and their details is important so the payments aren't overlooked. Car payments, mortgages, credit card bills, etc. are all important to categorize. A free credit report will also show you any credit cards you may have forgotten, just in case.
Insurance: Make a list of all the life insurance you have and ensure the beneficiaries are up to date. It is there for a reason, make sure your loved ones get the benefit.
Passwords: The most secure way to handle passwords is to use a password manager, such as LastPass. Keep track of just one and keep all the rest in your own vault. Make sure your loved ones can access your vault.
Personal items: The following are probably more difficult than the financial to-do list and will require more thought:
Write instructions for your funeral. Want certain songs or hymns? Want someone to speak? Want an open casket? Wish to be cremated? If your funeral, or celebration of life, is important to you don't assume your loved ones will know what you want. Help yourself by helping them plan it.
Write your own obituary. The only way I will ever be referred to as a terrific golfer is to write it myself in a document no one will dare edit.
Write a letter to your family telling them what they mean to you. This doesn't necessarily have to be an end-of-life activity, you can do it now. Putting something in writing somehow impacts people more. In fact, I wrote a letter to my then-3-year old daughter the day after 9-11 to tell her what happened that day and the impact it had on me. I actually gave it to her when she was old enough to understand that terrible day and I believe I treasure that letter at least as much as she does.
The inspiration for this post goes to Bob Bova, the founder of Moneywatch Advisors, who wrote a newsletter to clients a few years ago where he created a similar list. His best advice? If you found yourself with just a few hours to live, who would you call? Call that person today!
Steve Byars, CFP®