You are here

Fun Investing Lessons From 2019 Derby Horse Names
Fun Investing Lessons From 2019 Derby Horse Names
Submitted by Moneywatch Advisors on May 2nd, 2019
Come on, admit it, you place at least one bet each Derby on the name that means something to you. I do. For fun, below is the list of this year's Derby horses with the investing or financial planning lesson that can be gleaned from their names. (In the order of their Road to the Derby points)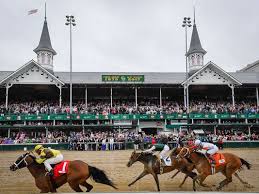 Tacitus – The Roman historian wrote one of the earliest non-Christian references to the crucifixion of Christ. Not sure what that has to do with financial planning but I've witnessed plenty of praying at the track before.
Omaha Beach – When I hear this reference, I think of bravery in context of the Normandy invasion during World War II. When I think of bravery in context of investing, I think that's foolish – never take more risk than is required to accomplish your goals. I also think, I've been to Omaha and there ain't no beach there.
Vekoma – Is a Dutch manufacturer of roller coasters. Yes, the stock market can be like one of those. From 1926-2017 the stock market returned an average of 10.27% but only fell within 2% of that average in 6 of those 92 years. Roller coaster, indeed.
Plus Que Parfait – Mmmm, parfait.
Roadster – Remember, you aren't what you drive. Wait to buy that Roadster until you've saved all you need for retirement first.
By My Standards – When considering a financial planner, look for a Certified Financial Planner™ professional – the gold standard. We are required to act as a fiduciary and provide advice only in your best interest.
Maximum Security – To provide security for your portfolio when the stock market takes a dive, diversify. Bond mutual funds have proved to be one of the best diversifiers, providing a zig when the stock market zags.
Game Winner – The opposite of Bitcoin.
Code of Honor – Certified Financial Planner™ professionals have to honor a code of ethics and take Continuing Education classes that include ethics.​
Haikal – The urban dictionary defines haikal as someone who is awesome at everything. But, no one is, so be awesome at your job, and find a Certified Financial Planner to help with your long-term financial awesome-ness.
Improbable – Since the Road to the Derby points system was implemented in 2013, the favorite has won all six editions. Improbable or likely that happens again in 2019?
War of Will – Yes, prepare a will so there's no war if something should happen to you. Get guidance from your financial planner who will work with your attorney to prepare what you need, but no more.
Long Range Toddy – Planning and investing is for the long-term, so don't panic and react to the inevitable market swings. If a person had $100,000 at the bottom of the market decline in March, 2009 and 1) Moved it to cash, they ended up with only $72,000 at the end of 2016; 2) Moved to all bonds, they ended up with $98,000 at the end of 2016; 3) Stuck to a 50/50 split between stocks and bonds, they ended up with $171,000 by the end of 2016. Make a plan; execute the plan.
Tax – Uncle Sam will eventually get his share of our earnings but do your best to decide when that is. So, contribute pre-tax to your workplace retirement plan and, when your pre-tax options are maxed out, explore contributing to a Roth IRA. Tax planning helps investment returns.
Cutting Humor – "Money, if it does not bring you happiness, will at least help you be miserable in comfort", Helen Gurley Brown. Ha!
Win Win Win – We all want to win. Markets and investments fluctuate, however, so focus on the long-term victory and don't worry about the short-term declines.
Country House – Want that vacation home? Add that to your financial plan and start saving early, along with your goals for financial freedom. (You thought I'd say forget it, didn't you?)
Gray Magician – I got nothin'.
Spinoff – Much like Rhoda was a spinoff of the Mary Tyler Moore show, eBay spun off PayPal. No clue how that might be helpful to you.
Master Fencer – Reminds me of an article I saw where some clown used Derby as a metaphor for investing – complete with a picture of a horse jumping over a fence. What a rube!
Remember, betting is for entertainment in the short-run; investing is a calculated risk within a financial plan for the long-term.
Steve Byars, CFP®