You are here

My Mother-in-Law's Quilts and Mike Tyson
My Mother-in-Law's Quilts and Mike Tyson
Submitted by Moneywatch Advisors on January 10th, 2019
I think my favorite mother-in-law joke has to be Rick Pitino's when he told his team he wanted them to play "mother-in-law defense – constant harassment." That's the first and last quote of Pitino to appear in my blog and, probably, the last mother-in-law joke. The fact is, my mother-in-law is a wonderful, caring person who also happens to make beautiful quilts - the most recent as a Christmas gift to my daughter.
Now, examined square by square one sees that each is unique in their own color and pattern and is beautiful on their own. Viewed as a whole, however, the quilt becomes magical with an array of color and patterns that is sure to bring a smile to even the grumpiest of coaches. In short, the whole is greater than the sum of the individual parts.
While I have always admired her quilts, it wasn't until recently, after reading the blog post of a friend and fellow Certified Financial Planner™ professional, Eric Clark from Charlotte, North Carolina, that I saw how closely Judy's quilts resemble the sometimes-called Quilt Chart, pictured below. Consisting of blocks of color, each representing a different investment asset class, it looks like a beautiful quilt. Examining each block individually one sees how each asset class – Large Cap stocks, Small Cap stocks, Fixed Income, etc. – performed in every year since 2004.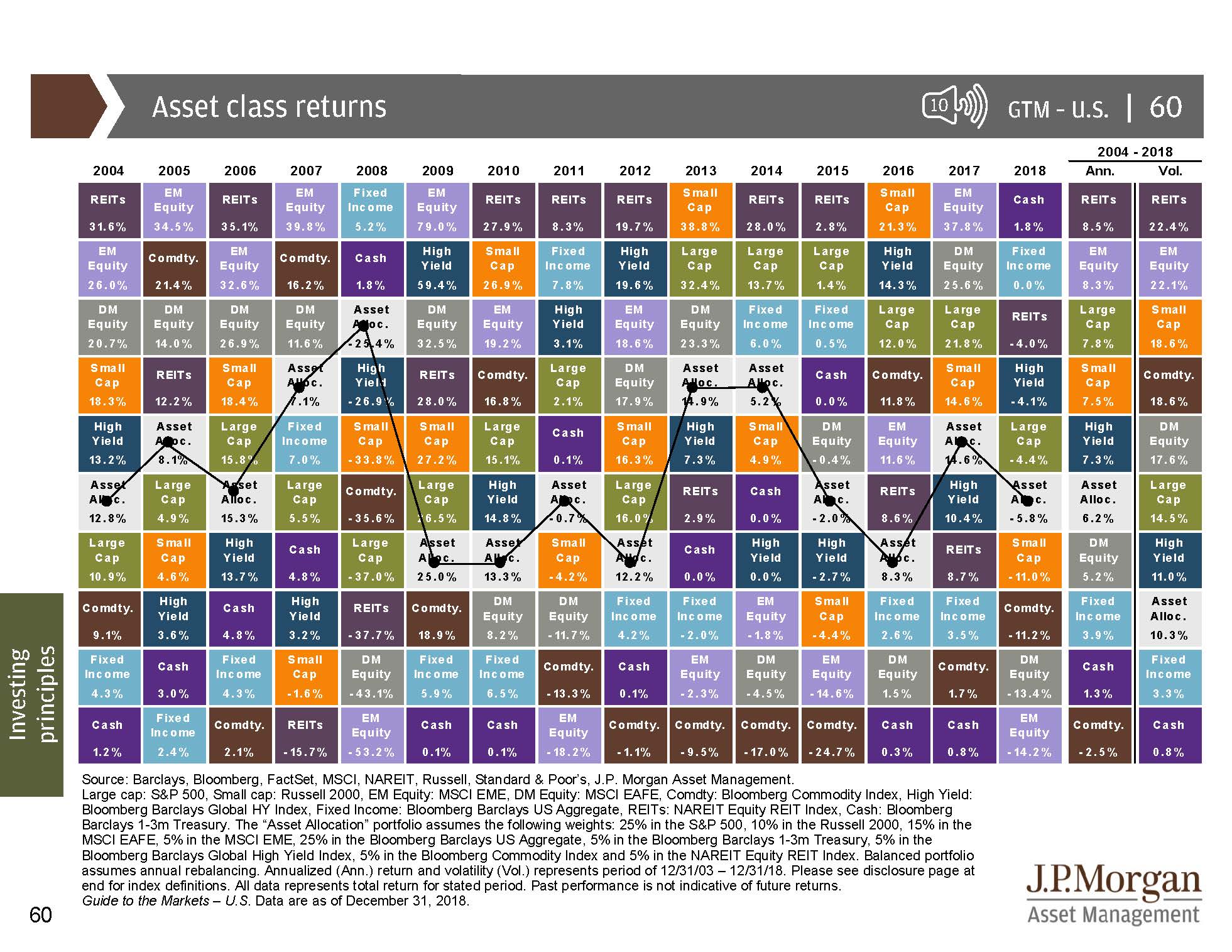 Returns and volatility
For an investing geek like myself, this is true beauty. Virtually every year a different asset class took it's turn as the highest returner. For instance, if you saw that Emerging Market stocks earned 39.8% in 2007 you might have been tempted to buy yourself some of that. Oops! In 2008, that asset class lost 53.2%. Maybe this is harder than it looks?
From the top right of the Chart it shows the category Real Estate Investment Trust (REIT) demonstrated the highest average annual return of 8.5% per year. Of course, it also experienced the highest volatility of any asset class as it's returns ranged from a high of +31.6% to a low of -37.7%. Wow, that's quite a ride!
As one would expect, cash was the steadiest, earning an average annual return of 1.3% with a very low volatility of 0.8%.
Meanwhile, the asset class consisting of a diversified portfolio of many asset classes together returned an average of 6.2% with the third-lowest volatility. Hmmm, maybe within the quilt there is a valuable lesson.
Mike Tyson
You were wondering how I was going to weave (get it?) Mike Tyson into a blog post about my mother-in-law's quilts, weren't you? Well, while I seriously doubt that Judy has ever punched anyone, Mike Tyson certainly has and his famous quote is one I love dearly – "Everyone has a plan until they get punched in the mouth." What does this mean for our illustration? It means that it's really easy and tempting to find an asset class that is doing well and jump on it…until it tanks. Now, that hurts.
What takes more discipline is developing a plan and sticking to your plan – even as you see certain asset classes post sky-high returns and you're tempted to jump on that train, or as you see others tank and you're tempted to unload them. Because, over time, steady wins the race and our view should always be long-term.
The quilt knows
The individual squares of Judy's quilts are attractive but only when viewed together is the true beauty of the quilt seen. Similarly, within the Quilt Chart, the individual squares representing different investment types can be enticing – or, even ugly as the market gyrates all over and steady asset classes are difficult to find – but, together, and over time, the squares assembled into a portfolio that is right for you can be quite beautiful – and lucrative. Like a quilt, the whole is greater than the sum of the parts.
Before choosing your own portfolio strategy or, worse, chasing returns by constantly switching strategies, consult with a Certified Financial Planner™ about your long-term goals.
Steve Byars, CFP