You are here

Plan These 6 Steps To Get a Good Deal On a New Car
Plan These 6 Steps To Get a Good Deal On a New Car
Submitted by Moneywatch Advisors on June 8th, 2018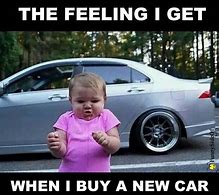 I recently bought a new car and the process was downright enjoyable compared to yesteryear – because I was prepared. In contrast, I have a distinct memory of Lisa and me buying a Honda Civic about a quarter century ago and negotiating – and walking out of the dealership twice – for about 5 hours until we finally struck a deal. When we were signing our young lives away the dealership manager brought me an umbrella as a nice gesture. I told him, "If I'd known there was an umbrella in the deal, I would've signed a long time ago." Well, if looks could kill this blog would have to be ghost-written.
Today, buying a car can be quite simple with much less stress – if you do your homework ahead of time. Here is what I did and my suggestions for how to prepare yourself.
Plan Your Budget
As always, plan to continue "paying yourself first" by saving the amount from your financial plan into your workplace retirement account – 401(k), 403(b), etc. After that, what amount can you afford to pay per month? Let me be quite clear, you don't want to negotiate with the dealer based on what your monthly payment will be, but it is important for YOU to know what you can afford within your budget.
Research Vehicles and Features
I am proud to say we have never owned a minivan. Because, of course, I am WAY to cool for that. But, I will be quick to add, they are absolutely perfect for many. Similarly, I have never owned a truck but they are perfect for many. The key is finding and buying what is perfect for you.
First, avoid looking at manufacturers' or dealers' websites to get information at first. Instead, research at Edmunds or Consumer Reports to get their analyses of vehicles as well as reviews from others who have bought them.
Determine The Market Price
This used to be the hard part. Back when we bought that Civic 25 years ago the only way to negotiate was from the sticker price down. And when you finally had a deal there really wasn't any way to know if you'd reached a fair price or not. Today, through the magic of this internet thing, you can go to Kelley Blue Book or Edmunds and determine not only the invoice of the car to the dealer but the average purchase price of people near you. For instance, I bought a new Honda Accord, because I'm boring after all, and Kelley Blue Book could tell me what other people were paying within a 60-mile radius of my zip code. Now, that's the average price – meaning some people paid more and some people paid less – but it's probably fairly indicative of what a fair price is.
Determine the Value of Your Trade-In
I know that I could get a higher price for my used car if I sold it myself but I've always traded it in because it's just easier. Either way you choose, however, it's important to know the value of that trade-in. Again, Kelley Blue Book can tell you the approximate value of your car. Two keys here: 1) Be sure to select the Good category, rather than Excellent, when it asks the car's condition. Most cars fall here and better not to over-estimate the value; 2) Look at the Trade-In Value, not the value if you sold it yourself. The trade-in value will be less but that's what you're doing.
Research Financing
Since you've budgeted the monthly payment, look for attractive financing options. I purchased my last Accord through Honda Finance with an interest rate of 0.9% for 60 months. That's practically FREE money! In fact, the difference between an interest rate of 5% and 0.9% on a $25,000 car over 60 months is $2,760. There are many car manufacturers that are offering deals similar to this now – take advantage of them.
At this stage, if you question your ability to get a loan, you might want to get pre-approved for one. You now have an informed idea of the price you can expect to pay for the new car. Subtracting the value of your trade-in from the price will produce the amount you expect to finance. So, plug in this amount at the interest rate you expect to pay and you can determine your monthly payment and can submit that to your bank or credit union for pre-approval. Remember to include an estimate of sales and use tax plus the destination charge charged by the dealer, you can't negotiate that away. In Kentucky, sales and use tax is based on the difference between the sales price and the trade-in value of the deal, by the way. These can be financed too and I almost always do.
Test Drive and Negotiate
You, of course, can test drive a car anytime during this process. I always wait, though, until I'm pretty sure what I want and what I'm willing to pay before I test drive. Assuming the car drives how you'd hoped and it's what you researched, time to negotiate.
Now, my experience in recent years has been vastly different than that of 25 years ago. After the test drive we go to the salesperson's desk and they ask me what I think is fair for the car. At the same time, someone else in the dealership will provide a trade-in value for my used car – what they're willing to pay me. I say, "I think $XX is fair for the Honda Accord I'm considering." The salesperson says, "Where did you get that number?" I say, "Kelly Blue Book." The salesperson then calls up the site right there and turns the monitor so we can both see the screen.
Now, some dealers automatically add options such as mud flaps and all-weather floor mats to all new cars and attempt to charge you for them. That kind of a package can be priced at about $1500. I've found you can usually negotiate that cost away since you didn't ask for it in the first place.
Finally, the key to reaching a deal is to get BOTH the price for your new car and the trade-in value to the number, or close, you researched. It is easy for those two numbers to get conflated or to get focused on the final monthly payment, but it is vital to negotiate those two numbers separately. Because, if you get those two right, the monthly payment will be just as you've already calculated and for the amount you were pre-approved. Remember, if you don't get the deal you think is fair, don't fall in love with the new vehicle. You can always walk away. In fact, if you walk away more than once, you might even get a new umbrella out of the deal.