You are here

What Has The Pandemic Taught You?
What Has The Pandemic Taught You?
Submitted by Moneywatch Advisors on June 22nd, 2020
Below are a few random thoughts from my own experience interspersed with some from friends. What about you?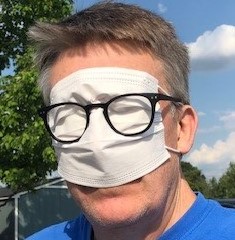 A friend told me he has enjoyed spending more time with his wife and kids so much that he's questioning the necessity of attending all those evening, business-related events.
I agree wholeheartedly. While I certainly miss seeing more people now, the collection of Chamber/Association/Fundraising reception/dinners can become exhausting.
More important, I have REALLY enjoyed our family evening meals with all four of us home. Hmm, maybe I don't need to attend all those functions.
Pandemic purchases: Bourbon: Top shelf; Shampoo: Bottom shelf.
Stress and Money: When we all finally realized in mid-March that this pandemic thing wasn't just something people on the other side of the globe had to deal with, many of us felt like we'd hit a brick wall. Wait – we're on an indefinite snow day with the emphasis on indefinite?
If that wasn't stressful enough, the stock market understandably tanked. In fact, it was the fastest drop from Bull market to Bear market in history – faster even than the 1929 crash. The combination of the two caused much stress among some and an urge to "Do something! Anything!"
Financial lesson: This was a good reminder that a well-done financial plan and investment strategy can bring peace of mind. And, the time to "Do something!" is before the market takes a dive.
Creating a diversified portfolio, for instance, helps smooth out the inevitable bumps of the market and contains asset classes in addition to stock mutual funds – like bond funds – that are intended to zig when the others zag.
Grocery shopping with a mask on makes it easier to buy Cheez-Its and ice cream.
Spending priorities: When the world first shut down, we pretty much stopped spending on anything other than food and drink, Netflix and toilet paper, right? Were there some things you didn't miss at all? What did you really miss?
Missed: What I really miss is travel. I don't have a lot of hobbies and, while we enjoy a nice meal out, we're quite content with grilled fare at home. Trips around the globe, however, play a prominent place in our financial plan.
Don't miss: What I didn't miss is my car. I love walking to the office.
Financial lesson: Now is a good time to create a budget that prioritizes those things you really value – that bring you joy – rather than those things others think you need.
Chocolate makes everything better, every time.
Miss people: I've always known I tilt slightly toward the extrovert end of the scale but the pandemic has enhanced my understanding of myself. There were days when I was utterly exhausted at 5:00 after seeing no one all day.
I need the energy from interacting with others but Zoom is a poor substitute for human contact. I enjoy collaborating with our team and our clients and, man, I love a good joke…especially when I'm the one telling it.
What have you learned?
Steve Byars, CFP®